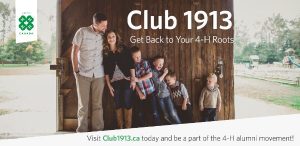 Introducing Club 1913—an online community for 4-H alumni across Canada!
Over 100 years ago, 4-H Canada began as a grassroots idea in rural Manitoba. Now, it is a highly respected movement—bridging generations and building deep community roots in the agricultural sector. Our programs have helped shape community leaders, agvocates, Olympians, CEOs and parliamentarians from across Canada.
Today 4-H Canada was excited to launch Club 1913—an online community where our more than 350,000 4-H alumni across Canada can re-connect, find unique opportunities and help grow future generations of leaders. How to get involved:
Register – if you are a 4-H alumnus we want to connect with you!
Tell your friends – get on social media and encourage everyone you know to be a part of #4HClub1913 and the attached e-card
Share your story – how did 4-H shape you? We would love to see stories pouring in from 4-H alumni across Canada as we celebrate the launch of this online community (make sure you tag friends from your 4-H days).
You can also visit Club1913.ca and read the News Release here.
Watch for updates from us about Club 1913, opportunities for 4-H alumni and how you can get back to your roots! Make sure you keep sharing your story, and the positive impact of 4-H in Canada, by using #4HClub1913 on Twitter and Instagram, and by spreading the word on Facebook.
Alumni in Manitoba
There are many ways to get involved with 4-H Manitoba at club, area, and provincial levels.
Do you have specific skills that you can teach to members or leaders?
Would you enjoy judging communications events or project displays?
Would you like to help organize an event or sit on the scholarship committee?
Contact your local club, area council or Manitoba 4-H Council to volunteer.
Are you interested in being a Manitoba 4-H Council Board Member or a 4-H Foundation Trustee?
Or do you know someone who would be a good candidate?
Contact Manitoba 4-H Council for more information.
From member to Leader – town fairs are a wonderful learning opportunity!
A special thanks to Shaw TV Winnipeg for making and broadcasting this video of the Elm Creek 4-H Beef Club.