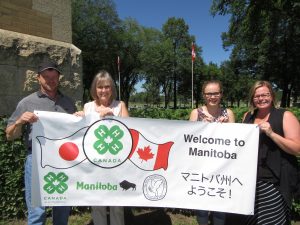 The Manitoba 4-H Council welcomes the York-Benimaru Foundation Japan Homestay Program Visitors to Manitoba!
This is the 29th year of the York-Benimaru Foundation's "U.S.A – Canada International Exchange Program". The foundations purpose is to foster an international spirit among the youth of Fukushima Prefecture through the promotion of cultural and educational activities. The high school students are awarded the opportunity to study English at an American University (Seattle Pacific University) followed by a homestay with 4-H Families in Manitoba, Canada. The hope of the foundation is to inspire greater individual achievements and to encourage the students to become true citizens of the world in the future.
The group of 19 Japanese students and two chaperones arrived in Winnipeg on July 27th and enjoyed a tour of the city the following day. They toured the Legislative Building, met the honourable Ralph Eichler, visited a dairy farm, went to the Canola Learning Centre and took part in the Bison and Bannock program at Fort Whyte. The students were welcomed in Portage la Prairie with a party on July 29th where they first met their host families.
They are now immersed in the Manitoba lifestyle with their host families in various parts of the province. Many of the exchange students will get the chance to experience life on a farm as many host families are involved in agriculture. Other activities they may have the chance to experience include camping, going to the lake, fishing, boating, kayaking, hiking, horseback riding, Canadian cooking and playing sports. This year some of the host families also plan on taking their Japanese guests to the RCMP musical ride.
On August 12th the families will meet up for a Sayonara Party & YBF Thank you Party in Domain, MB to celebrate the 2016 Program. There are always a lot of smiles and tears by the end of the evening, as this is when the Japanese guests say goodbye. This also serves as an appreciation event for the Manitoba supporters (financial and in-kind) and the host families.
If you are interested in hosting a YBF Japanese exchange student in the future, feel free to contact Leanne Sprung (leanne.sprung@gov.mb.ca) for more information.